Choosing the best dentist WordPress theme is no easy task. When chosen correctly, the theme will take your web design to the next level and help give your business a clean and professional look.
We've researched thousands of WordPress themes and have found the 4 best dentist WordPress themes for your business in 2020.
Astra – Dental Clinic WordPress Template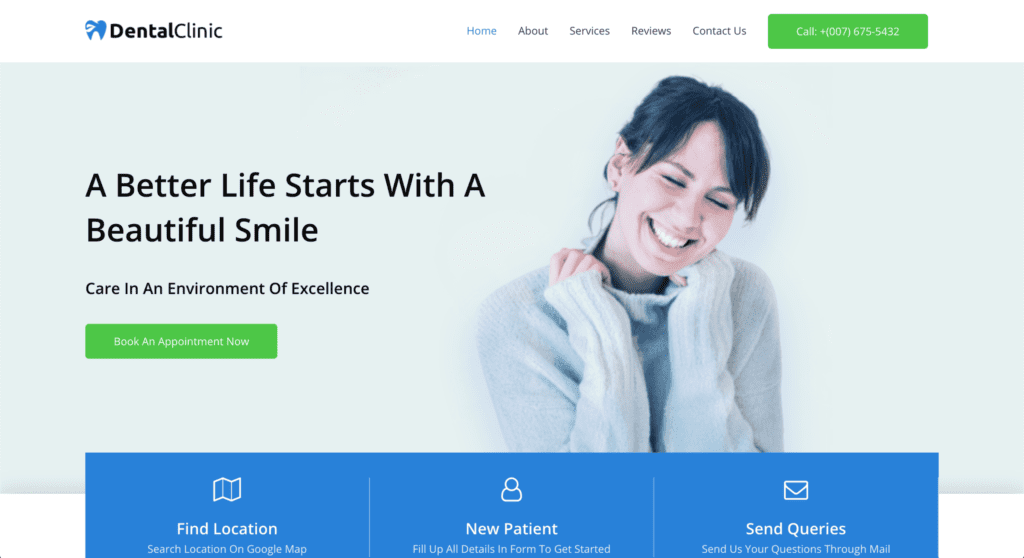 Astra Theme, the fastest growing theme of all time, has a dental clinic site template that is perfect for… dental clinics. The template is very well laid out, makes it very easy to add your own content (text and images), is very easy to navigate, and clean (yes, a great dental pun)!
It's also mobile-responsive out of the box, so as patients want to make an appointment or learn more about your clinic from their smartphone, your website will look perfect and give you a professional presence.
Astra is free to use and the dental clinic template is included at no additional cost!
Avada – Dentist WordPress Theme Demo
Avada is the #1 selling theme on ThemeForest, the most popular premium WordPress theme directory on the internet. Avada has over 575,000 customers with a 4.77-star rating (over 23,002 reviews)!
The Avada dentist WordPress theme demo comes built with easy, fixed navigation on the left-hand side so your patients can easily find what they are looking for. Additionally, Avada has its own built-in page builder which makes it super easy to build a website without having to code a single line.
ProDesigns Medical Way Plus – Dental Theme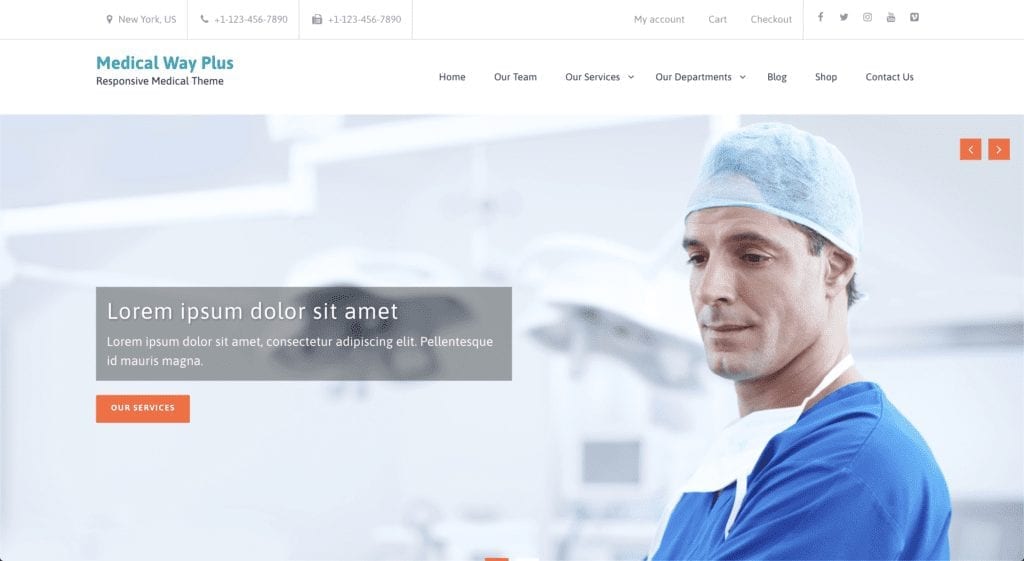 Medical Way Plus is a responsive healthcare theme that can be purposed for dental offices. It's a simple layout with clear navigation. The theme is built with SEO best practices in its core which makes it a no-brainer for dental clinics who care about getting found on Google.
The ProDesigns team has world-class support and has designed over 30 different themes, so you can trust their products and services.
Medical Way is free on the WordPress.org repository, or you can opt to purchase the Medical Way Plus for a one-time payment of $49.
Zakra Theme – Dental WordPress Theme
Zakra is developed by ThemeGrill, one of the best WordPress theme development companies. It is a very popular theme powering over 40,000 websites.
The Zakra dentist WordPress theme template is super clean, fast, and comes with pages like appointments, team, news (blog), and more.
You can get Zakra for free, and if you want advanced functionality like advanced header options, styles, blog layouts, and more, then you can purchase the pro version for as little as $5.
Conclusion
We hope any of these 4 dentist WordPress themes help you build a great website for your business. We highly recommend going with well-established WordPress themes as they are heavily tested, reviewed, and have great support in case you need additional help.
If you have any questions or would like to show the community your dentist WordPress website, leave a comment below. We can provide any feedback to help you maximize your online success!
Additionally, if you don't have the time or resources to build, manage, and grow your website, learn about Chairlift's outsourced web design & development services. We help businesses grow better and faster online with a simple membership.
Frequently Asked Questions (FAQs)