If you sell physical products online it's important to have fast, reliable, and scalable shipping functionality. There is an abundance of WooCommerce shipping plugins to choose from, and each comes with a different set of features at varying price points.
This article will help you answer the age-old question, "what is the best shipping plugin for WooCommerce?"
Having the ability to easily print shipping labels & picking slips, track packages, and handle returns & inventory will make your business more successful and your life easier.
This article will teach you about the best WooCommerce integrations with shipping plugins (free and paid). So, without further ado, let's dive in!
WooCommerce Shipping plugin powered by Jetpack (Free)
The WooCommerce shipping plugin is a great, free option that is powered by Jetpack.
This shipping plugin enables you to:
Print shipping labels right from your WooCommerce dashboard
Get discounts on USPS shipping rates
Create tracking numbers automatically and allow customers to view their tracking details from within their order
Track shipments once they are in transit
The creators of WooCommerce also built this plugin, which should give you peace of mind that it's a well supported plugin that will continue to have helpful updates.
Price for the WooCommerce Shipping Plugin: Free
ShippingEasy WooCommerce plugin by ShippingEasy (Free)
The ShippingEasy WooCommerce integration is another great free option for WooCommerce stores (it does cost money once you start to ship over 50 orders per month).
Although ShippingEasy is not built natively into the WooCommerce dashboard, it's very easy to use the software. As far as WooCommerce shipping plugins go, ShippingEasy is quick to learn and well documented.
ShippingEasy also has a great community around it – they have over 50,000 customers and 100+ integrations, which makes it a great option if you are looking to scale your business and sell through marketplaces like Etsy, Amazon, eBay, and more.
Price for the ShippingEasy WooCommerce Plugin: Free (for less than 50 shipments per month)
ShipStation WooCommerce plugin by ShipStation (Starting at $9/mo)
ShipStation is one of the best shipping software you can get. The ShipStation WooCommerce integration is free to download. However, it requires that you have a ShipStation subscription. The plans start at $9/mo (there is a 30-day free trial so you can try it as your WooCommerce shipping plugin before you pay).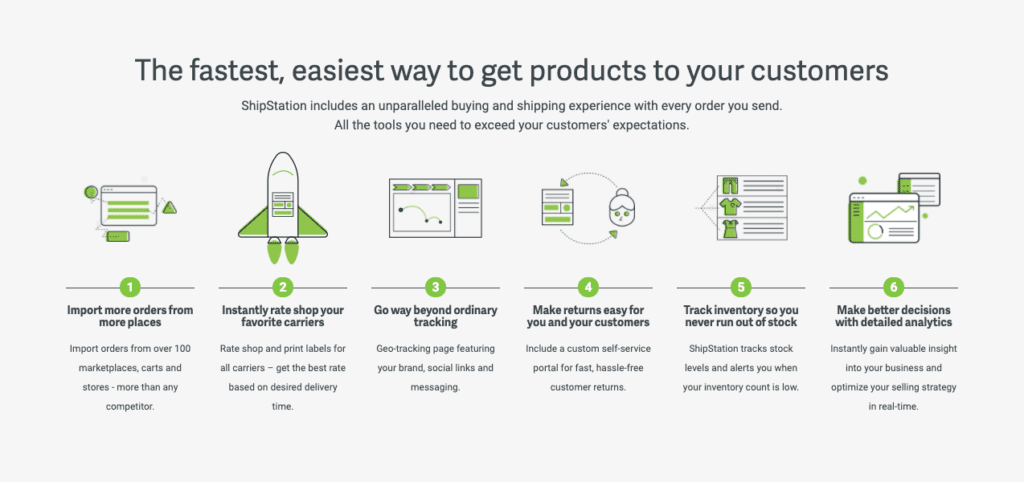 ShipStation does a lot more than just help you create shipping labels. It enables you to:
Manage your orders
Create branded shipping labels, returns, and tracking pages
Track your warehouse inventory and help you fulfill orders more easily for picking and packing
Integrate with hundreds of platforms and shipping companies
Price for the ShipStation WooCommerce Plugin: Free with a ShipStation subscription (starts at $9/mo)
Additionally, if you don't have the time or resources to build, manage, and grow your website, learn about Chairlift's outsourced web design & development services. We help businesses grow better and faster online with a simple membership.