In this article, you will learn about the best WooCommerce delivery date plugins that give your customers the ability to select a delivery date (and time window) on your store's checkout page.
For businesses that sell locally, it's important to give your customers the option to select a delivery and/or pickup date. For businesses like restaurants, grocery stores, or service companies, giving your customers this flexibility and functionality could be the difference in making the sale or not.
Related: Looking to add shipping functionality to your WooCommerce store? Here is an article introducing you to the 3 Best WooCommerce Shipping Plugins.
Order Delivery Date for WooCommerce by Tyche Softwares
The Order Delivery Date for WooCommerce plugin is our favorite plugin for adding a delivery date picker on your website's checkout page.
This plugin has a free version and can be downloaded directly from the WordPress repository. Additionally, there is a paid version for advanced functionality, which we will highlight below.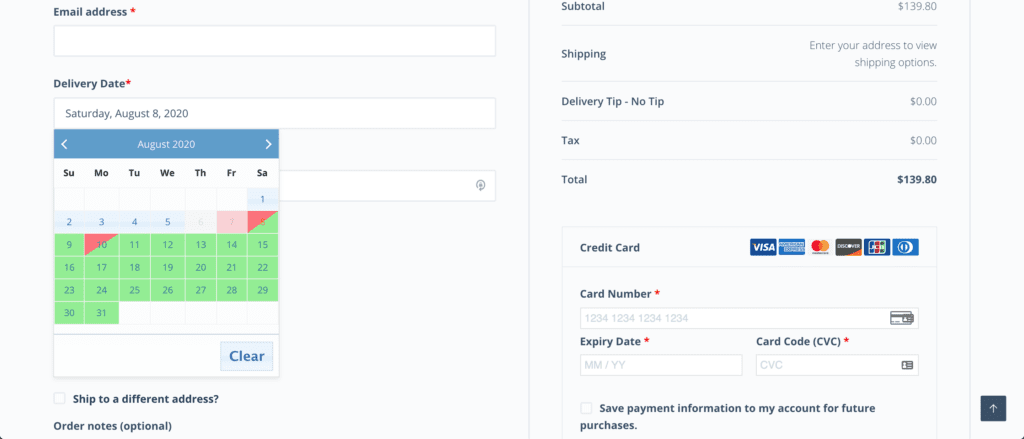 The Order Delivery Date for WooCommerce plugin enables the following functionality for free:
Customer can select a delivery date on the checkout page
You can disable the weekdays which you do not deliver
You can set the minimum required time for delivery
You can limit the number of deliveries or orders to be placed per day
You can see the selected delivery date per order in the WooCommerce admin screen
The Professional version has advanced features like:
Create different delivery schedules for different product categories and shipping methods
Setup recurring deliveries with WooCommerce Subscriptions
Setup specific delivery dates instead of just weekdays
Setup delivery charges & time cut-offs per weekday
Setup same-day and next-day deliveries
Enable delivery times with the delivery date
Customers can edit their delivery date from the "My Account" page
Setup the maximum number of deliveries per day by order or product quantity
And more
The Order Delivery Date Pro plugin can be purchased for $99, which is billed annually.
WooCommerce Delivery Slots by Iconic
The WooCommerce Delivery Slots plugin by Iconic is another great option to add this functionality to your store and grabs the second spot on the "WooCommerce Delivery Date Plugins" list.
It's developed by a reputable company, Iconic, and has an average rating of 4.47/5 with over 70 reviews. The plugin is beautifully designed, which gives your customers a great experience when selecting a delivery date for their orders.
In addition to the great design, the plugin also has helpful features like:
Customers can select a delivery date and time at checkout
You can set the maximum number of orders per day and time slot
Setup same-day and next-day delivery settings
Block holidays and closed periods
Customers can reserve a delivery slot and continue shopping to add more products to their cart
The development team frequently updates the plugin, which is a great sign for continued support and improvements. It's a great WooCommerce integration that gives your checkout experience superpowers.
The WooCommerce Delivery Slots plugin has a 14-day free trial and costs $99/year.
YITH WooCommerce Delivery Date
YITH is one of the most popular WooCommerce plugin development companies in the world, and their WooCommerce Delivery Date plugin is highly regarded for its functionality.
The plugin is used by over 5,500 customers and has an average rating of 4.5/5.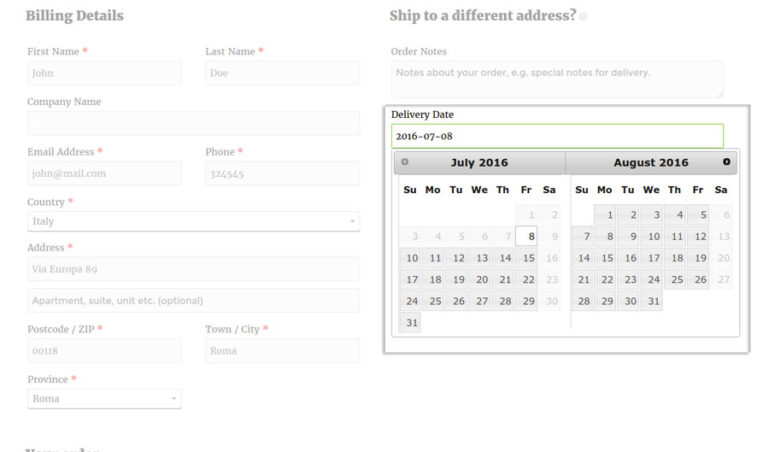 This plugin gives your online store the following functionality:
Integrate your delivery system through different Carriers
Show the days available for delivery
Increase the shipping fee for specific days and time slots
Set a limit for the number of deliveries per time slot
Set dynamic messages based upon the delivery option selected
Automatically update your customers when their orders have been shipped
And more
Conclusion and FAQs
We hope this shortlist of our top recommended WooCommerce delivery date plugins helps you add this advanced functionality to your website.
If you have any questions or comments, or want to share your store's success with delivery dates pickers, please do so in the comments below!
Additionally, if you don't have the time or resources to build, manage, and grow your website, learn about Chairlift's outsourced web design & development services. We help businesses grow better and faster online with a simple membership.