In today's real estate market, an effective online presence isn't just a luxury. It's an absolute necessity. For a real estate agent to maximize profits and visibility to potential clients, a mobile-friendly real estate website design is the crucial step you need to take to make it happen.
If you're worried about the learning curve you'll have to navigate to build a real estate website, we are here to alleviate some of that stress. With this guide and the user-friendly website building tools of WordPress in your corner, you'll not only learn how to build a real estate website — you'll learn how to make a real estate website that captures the attention of prospective homeowners and sellers alike.
Pick A Catchy Domain Name And Reliable Web Hosting Service For Your Real Estate Website
A domain name is your online business card and functions as your first line of advertisement in the search for potential customers. You can build a real estate website with all the beautiful bells and gorgeous whistles, but it won't convert into actual real estate sales if your domain name is an absolute dud.
You have multiple options to choose from when looking for a real estate website domain name registrar. Here's is a list of the four best (and most reliable) domain name registrars out there right now:
All four of the registrars above offer affordable domain registration services for you, and they also provide web hosting services that cater to WordPress users. If you're looking to save some money and keep things organized when you build your real estate website, bundling your domain registration with your web hosting service is the right way to go. The four companies above are fully compatible with WordPress, and some even come complete with automatic installs of the web-building service.
Now, here's the tricky part — creating and finding a domain name that's available and worthy of your real estate company.
You want your domain name to say a lot without saying too much. A good domain name represents your business. A great domain name drives business with the perfect balance of simplicity and name value. Building a real estate website that has a dull or overlong name is like slapping a new engine into a rusted-out Pinto — it may run like a champ, but it will look like a joke to the greater public. And it's the greater public that's going to buy and list properties with your real estate company.
To cater to your customer base, find a domain name that identifies your company and looks good when typed into a URL bar. Here are some hypothetical examples for you to draw inspiration from:
GreaterChicagoRealtors.com
JonesRealityNewark.com
You will have to be flexible, though. Your first domain name choice may not be available for sale. If not, you may be able to find it with an alternative Top Level Domain, an ending to your URL other than .com, which will allow you to keep your domain name's crucial body text (known as the second-level domain, after the www.)
Once you've got the perfect domain name picked out, you can bundle your domain purchase with a web hosting service from one of the four companies above. Be sure to look for the hosting package when calls out WordPress specifically in its literature, especially since they almost always come with an easy install of the WordPress software.
If you don't want to bundle your domain name and web hosting before building a real estate website, alternative web hosting services like InMotion Hosting are out there and offer fantastic WordPress-friendly deals worth your time.
Set Up Your WordPress Account And Find Your Design Theme
If you bundle your web hosting and domain name with one of the four services above, the auto WordPress install function will be your best friend and will either automatically populate your domain into the WordPress server or walk you through that process. You'll have to provide an email address, create a username and a suitable password, click on the Create Blog button, and verify your email address through a received link to get started!
If your new domain name doesn't populate into the blog address box for some reason, you can always enter your purchased domain yourself during the setup process.
WordPress offers domain name services of their own, along with advanced design functionality for a premium charge. We don't recommend using a WordPress domain name when you build a real estate website for the sake of cost and URL brevity. The advanced design functions will likely feel kind of unnecessary if you purchase the right design theme for your real estate site.
And lucky for you and your realty business, WordPress has several premium themes that cater to the real estate market – offering attractive mobile-friendly layouts, effective site frameworks, and functionality that is tailored to the very art of building a great real estate website. Here's a list of some of the best real estate WordPress themes that make your website pop:
Houzez – Real Estate WordPress Theme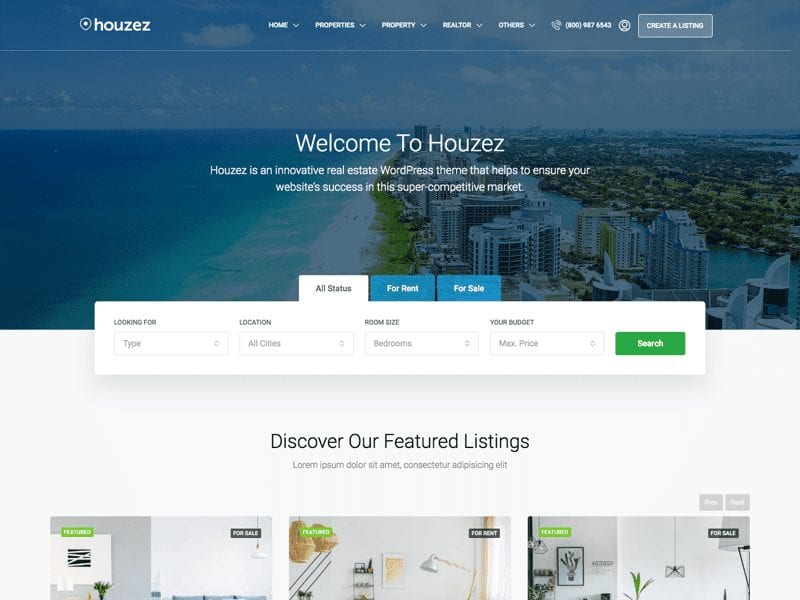 Real Homes WordPress Theme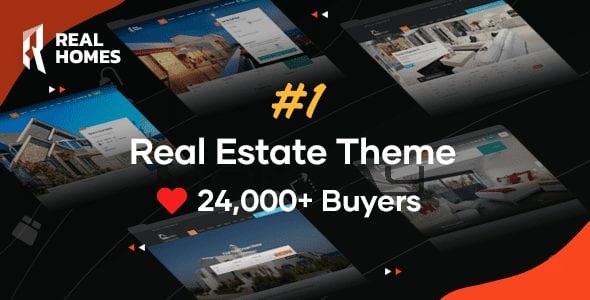 WP Residence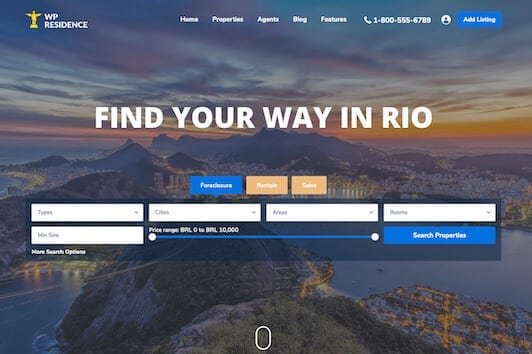 The great thing about these three premium WordPress themes is that they show you how to build a real estate website effectively while doing a lot of the heavy code lifting for you. For a negligible fee, you can use the framework of a useful real estate website with the full ability to customize for coloration, logos, and your own personal business touches.
Heck, some of these themes even come with amazing functions like property comparison tools and Google Maps connectivity to push your real estate website to the next level.
Feel free to browse WordPress for other themes that might fit your business. However, the three WordPress themes on the list above are unparalleled when building a real estate website right the first time.
Install WordPress Plugins That Drive Business
WordPress plugins are an essential add-on to any premium theme you choose. These little bits of coding goodness can increase your real estate site's functionality, protect your website from malicious attacks, and boost your website's visibility in key search engines like Google.
You can directly install plugins while building your real estate website through the WordPress platform, while others may require you to secure an API code or API key by registering at their website. Regardless, the right WordPress plugin is worth the extra time for the boost it will provide to your real estate website build.
Here's a list of the best WordPress plugins that are essential to building an effective (and safe) real estate website:
Akismet: All realty websites are game for spambots who pepper sites with comments and messages. Akismet is the ultimate spam-filtering plugin for WordPress. It eliminates spam for you so you can focus on real customers and real business.
Yoast SEO: Realtor websites live and die based on their content and the quality of the content's SEO optimization. This plug-in will help you optimize your site's wording for better rankings on Google.
Easy Social Share: If you want to build a real estate website in conjunction with an existing or upcoming social media presence, this plug-in is a godsend. It offers attractive buttons for shares to sites like Facebook and Twitter, email marketing help, and even some handy list-building tools.
All in One WP Security and Firewall: The most powerful and comprehensive security plugin for WordPress. This plug-in will safeguard your real estate website from phishing attempts, dangerous file uploads, and brute force attacks.
Jetpack: A real jack of all trades, the Jetpack plug-in can boost your real estate web site's speed, give you added design tools to play with, protect your site with 24/7 security, and boost its marketing potential with a ton of useful SEO-friendly tools.
One note – your chosen premium WordPress theme will also come with a set of essential plugins to its functionality and layout. Be sure to download all of those WordPress plugins as well to ensure that you can build your real estate website to its peak potential.
Create Effective Content That Engages Potential Clients
Once you build a real estate website that looks great and runs equally as well, it's time to focus on the phrasing and content of your site. There isn't a catch-all formula for writing compelling real estate copy that both attract potential clients and pleases Google's algorithmic structure. Still, there are key approaches to employ when plugging in words to your WordPress theme of choice:
Call Customers To Action
When you build a real estate website, you have to think about the customers you're marketing to. The average realty website has mere seconds to make an impression on a potential client, especially when they're viewing your site through a mobile device.
Hit them with strong and concise calls to action that give them a clear idea of what you're about, what you can offer, and why they should work with you. Use attractive images to frame these calls to action, drawing their eyes in and grabbing their attention. The more you speak a customer's language when building a realty website, the better off you'll be at converting lookers into active clients.
Be Concise, Yet Thorough
In this mobile era of web browsing, text-heavy landing pages (and pages in general) are bad for your business. It would help if you balanced providing customers the information they need without boring them to death with walls of verbiage.
Build a realty website with a clear message in mind, and approach that message like a storyteller. Don't bore your potential clients with overwrought technical details and fluff that will push them to click off your site and find something else to do.
Give Them Something Worth Staying For
This goes hand in hand with the above point. Build a real estate website that you would want to stay on for an extended period of time. Whether you're enticing potential home buyers with intuitive and attractive listings or drawing potential sellers in with testimonials from satisfied customers, you need to keep their attention after you grab it.
If you're really looking to impress potential sellers & buyers, you should consider drone photography or videos. Here's a guide on the best practices for real estate drone photography.
You may know how to build a real estate website after reading this article, but you also need to know how to fill it with the things real estate customers are looking for. Show them your awards and credentials, and let them know that you're a legit realty service that gets legit results. It'll do wonders for your business.
Pay Attention To Keywords
Make sure you install a WordPress plugin like the Yoast mentioned above that will help you optimize your real estate site content for Google and other key search engines. Come up with a list of keywords (key phrases) that your customers will be typing into Google when looking for a real estate company in your area.
For example, "Chicago real estate listings" is a great key phrase to consider plugging into your text if your business is located in the Chicagoland area. SEO plugins can help you find the right keywords too, but doing a bit of research on your own will help tremendously.
Grammar Counts
Bad grammar is the hallmark of bad web content. Google doesn't just look for keywords when they trove your page. They also look for proper spelling, coherent sentence structures, and correct grammar.
If you don't have any grammar superstars available to write content for your realty website, head over to Grammarly, and plug your documents into their free-to-use grammar checker. The free service is enough to clean up any major issues, and the paid service will help you fine-tune your content for maximum readability and SEO effect.
Tweak Your Framework & Homepage For Maximum Mobile Effect
As you build your real estate website, your WordPress theme of choice will automatically create a web page framework for you to utilize. It may make all the pages you need, or it may produce too many or too little.
You can always add, edit, or delete pages from your website with WordPress' easy-to-understand management tools. You can also edit the pages' names to give things a personalized (and SEO optimized) touch.
One thing you need to do, though, is to look at your website prototype through the WordPress app on a mobile device such as a smartphone or tablet. Is your landing page attractive and built to convert real estate browsers into real estate buyers? Does your real estate website look beautiful and have all the right information formatted correctly for mobile?
After all, mobile browsing is increasing at a rapid pace every year. You can't build a real estate website that looks great on a desktop but looks cluttered on mobile. If you do, you're going to lose a massive amount of business.
Make mobile a priority for your realty website. Your bottom line will thank you.
Launch Your Real Estate Website & Get To Marketing!
Once you're done building a real estate website and are ready to run one, following the instructions of your web hosting service and get it launched and live!
Most web hosting services have a launch button with easy instructions, and you can always contact their customer service center if there are any issues.
Once you've launched, it's time to get the word out there about your brand-new real estate website! Here are some essential marketing methods to consider after your realty website is up and running:
Social Media Marketing: If you don't have a social media presence for your real estate company yet, it's time to build one. If you do, you need to inform your existing followers of your website launch and work to find more followers who may turn to customers over time. You can't build a real estate website and hope for clients to come. You have to get the word out to where people are browsing most.
Email Marketing: Email marketing campaigns are essential for finding potential home buyers and sellers. They're also vital to driving traffic to your new real estate website. Email marketing services such as MailChimp, ActiveCampaign, and Constant Contact can help you create and execute effective email campaigns that will highlight your real estate website and the benefits it offers.
On-Site Registration: Consider a simple registration system on your realty website that solicits the basics — name, email, and permission to contact them. Don't go overboard and try to get more. Make things simple, make them worthwhile, and then you'll have a list of potential real estate customers to email down the road.
Advanced SEO Techniques: While having an SEO plugin on your side is crucial when you build a realty website, it may not be enough to really vault your website to the first page of Google for top keywords in your area. Consider investing in an advanced SEO tool like Moz or SEMRush to optimize your real estate website to its full potential.
Now that you know how to build a real estate website and market it effectively, it's time to get going! The quicker you build your site, the more opportunities you'll have to build your clientele and increase your real estate company's profitability and viability.
How To Build A Real Estate Website FAQs
If you don't have the time or resources to build, manage, and grow your website, learn about Chairlift's outsourced web design & development services. We help businesses grow better and faster online with a simple membership.