If you're in the business of tree removal, then you know that having a website is essential to attracting new customers and growing your business. But what goes into building a tree removal website that's effective? In this article, we'll give you a crash course in creating a website for your tree removal business to help you reach your goals.
Choose a domain name and web hosting
Before launching a website, you'll need to choose a domain name and web hosting. Your domain name is your website's address on the internet, and web hosting is the service that provides you with a space to store your website's files.
Once you've chosen a domain name and web hosting, you can begin building your website. Remember that your domain name and web hosting are different services, so you'll need to set up both before launching your site. You can usually purchase both through the same company, making the process easier. With some planning and preparation, you'll be ready to launch your website in no time.
Create a website design that is professional and easy to navigate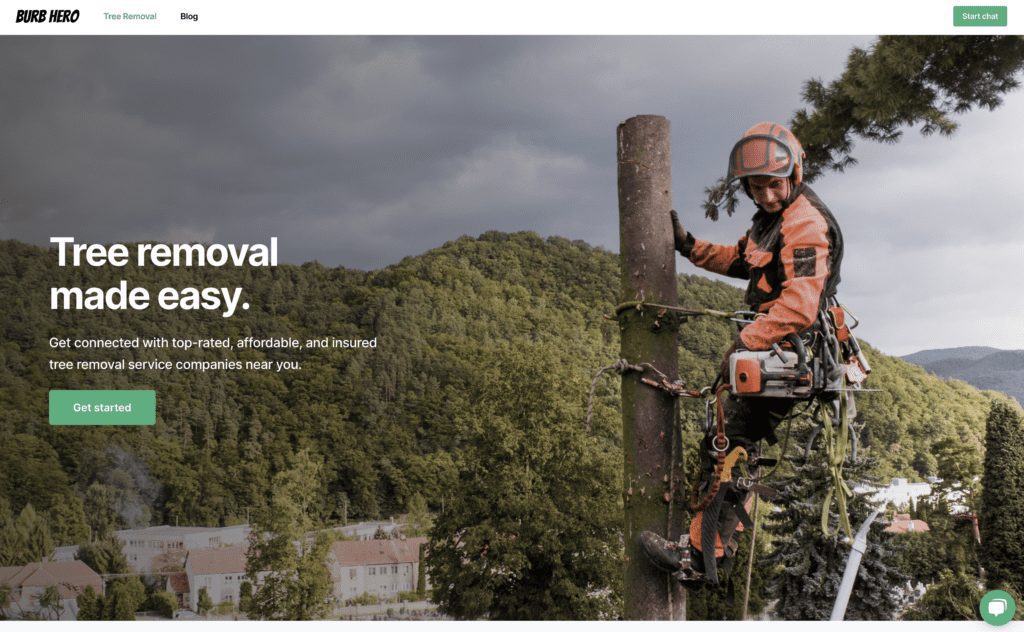 Creating a professional website design can seem daunting, but it doesn't have to be. There are a few key elements that all good website designs share. First, it is crucial to keep the layout simple and clean. This will help visitors to find the information they are looking for quickly and easily. Second, the use of color should be kept to a minimum.
Stick to a few complementary colors that create a pleasing aesthetic. Third, all critical information should be easy to find. The navigation bar should be clearly labeled and placed in a prominently visible location. Finally, remember to proofread all content before publishing it. By following these tips, you can create a professional website design and easy to navigate.
Make sure your website is optimized for search engines so potential customers can find you online
In today's digital world, ensuring your website is optimized for search engines is essential. After all, potential customers are more likely to find you online than anywhere else. Luckily, there are a few easy steps you can take to improve your website's ranking.
First, make sure your site is mobile-friendly. More and more people are using their phones and tablets to surf the web, so it's important to make sure your site looks good on all devices.
Second, use keyword-rich titles and descriptions to help potential customers find your business when they're searching online.
Finally, keep your content fresh and up-to-date; regular updates will show potential customers that you're an active business worth their time and attention. By following these simple tips, you can ensure that your website is visible to the people who matter most – your potential customers.
Promote your website on social media and other online platforms
Business owners know that promoting their website is essential for attracting new customers and generating traffic. But with so many different online platforms, it can be challenging to know where to start. One of the most effective ways to promote your website is through social media.
By creating a solid social media presence, you can reach a broad audience of potential customers and drive them to your website. In addition, you can use other online platforms, such as forums and directories, to share links to your website and increase its visibility. By taking advantage of these different channels, you can ensure that your website gets the attention it deserves.
Collect customer testimonials to showcase on your website
As any business owner knows, customer testimonials can be compelling. They provide social proof that your product or service is effective and can help build trust with potential customers. For these reasons, collecting customer testimonials to showcase on your website is always a good idea.
There are different ways to collect testimonials, such as conducting customer surveys or asking for feedback in person. Whichever method you choose, make it easy for customers to leave feedback. Then, once you have a collection of testimonials, be sure to display them on your website prominently. Doing so will help build your brand's confidence and encourage more people to do business with you.
Conclusion
Now that you know the basics of setting up a website, it's time to start. Choose a domain name and web hosting, design your site, add content, optimize for search engines, and promote your business online. And don't forget to collect customer testimonials to showcase on your website – they can help persuade potential customers to choose your tree removal services.