Thanks to WordPress, building a visually appealing website has never been easier. With the rise of beautifully designed themes and easy-to-use page builders, you can construct a great-looking website easily. However, attracting and engaging your visitors has never been more challenging.
With the HubSpot WordPress Plugin, you'll be able to overcome this difficult challenge.
It gives you the power to see what your prospects and customers are doing on your website and thoughtfully engage with them. You'll be able to see all the pages each person has viewed and give them the ability to speak with you through the live chat widget. Additionally, you'll be able to send beautiful, responsive emails to educate and nurture them.
In this article, you will learn the ins and outs of the HubSpot WordPress plugin. You'll get a deep dive into each tool so you can use it to grow your business.
User Guide
The User Guide is the home page to help teach you how to use the plugin. It makes it easy to onboard and investigate different parts of HubSpot.
We're not going to go into much depth on the User Guide in this article since it's fairly self-explanatory. The one thing we will mention is that the User Guide does have some helpful links if you're trying to learn how to best use the HubSpot WordPress plugin.
HubSpot Reporting & Analytics in WordPress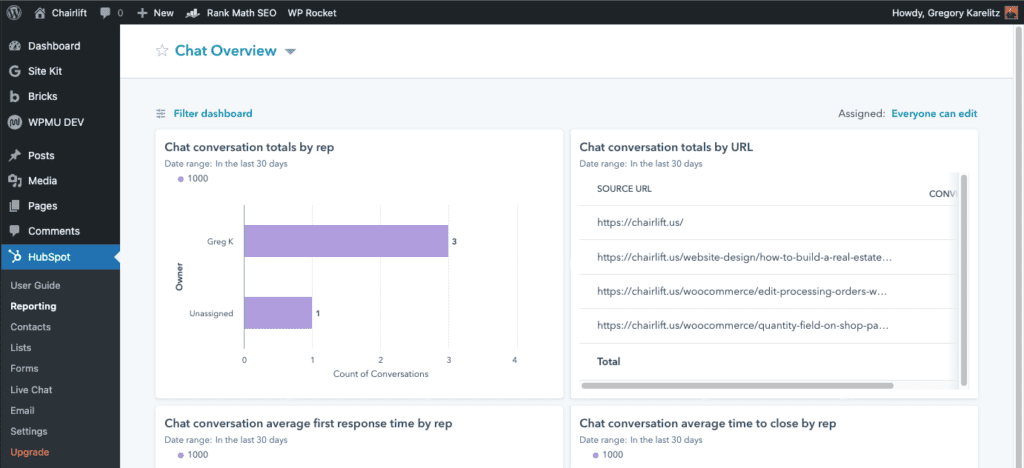 Reporting is the home to your HubSpot dashboards.
Dashboards are collections of reports that you can organize into a single screen. Reports are visual views of your business' performance that can be created on nearly any data that you have housed inside your HubSpot portal.
If you want to have a dashboard on all your website leads, that's easy!
If you want to have a dashboard that shows you all the deals created from your website, no problem at all.
If you want to have a dashboard that shows you the pages that convert the most form submissions, HubSpot's got you.
In the free tier of the HubSpot WordPress plugin, you're able to have 3 dashboards.
View Contact Profiles & Activity
Contacts are the brain of HubSpot. A contact is anyone that is identifiable (typically by email address) in your HubSpot database. Typically, contacts have interacted with your business. A contact can be created in many ways. Here are a few examples of how someone can become a contact in HubSpot:
A visitor submits a form on your website
A visitor starts a live chat conversation on your website
A visitors purchases something from your online store
A person on your team has a meeting with a potential customer
You upload a list of contacts that you obtained from an event
You create a contact manually
Inside the Contacts tab within the HubSpot WordPress plugin, you'll find the complete list of everyone in your database. You can open each contact individually and see a beautiful timeline of their entire history of interactions with your business.
Having a strong understanding of how individuals engage with your business will help you market, sell, and service each person better.
Create Segmentation with HubSpot Lists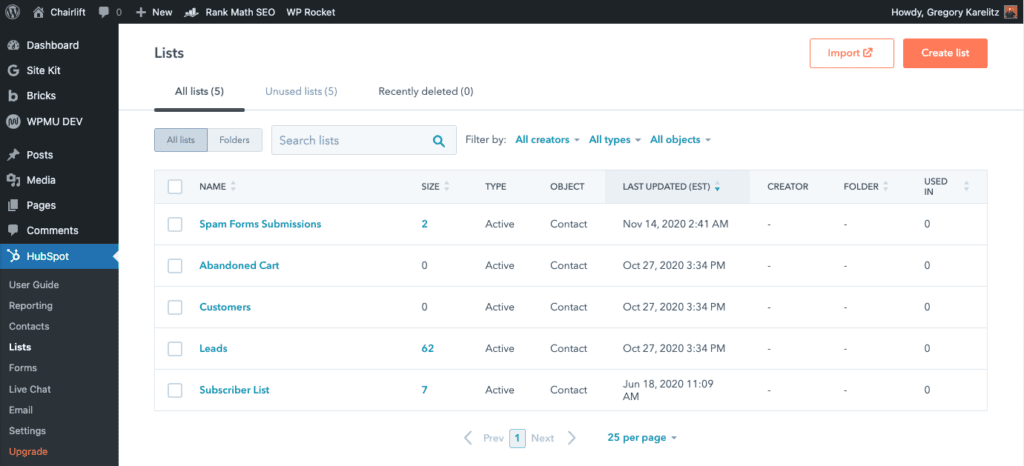 HubSpot's Lists tool gives you the ability to easily organize contacts together.
You can group contacts together based on any interaction that they have had with your business or data point that you had added to their record.
For example, if you want to see all the contacts in your HubSpot that have viewed a specific page on your website – like your pricing page – you'll be able to use the "Viewed Page" activity to curate a list of all contacts that have viewed this particular page.
Here are a few additional examples of what types of Lists you can create:
Contacts that filled out a particular form on your website
Contacts that started a live chat on a specific page
Contacts that are customers
Contacts that have the job title "CEO" and have a company headquarters in "Massachusetts"
As long as you have the data stored in your HubSpot portal, you can create an infinite combination of lists to get the exact audience you're trying to view in your CRM.
Many HubSpot features, like Email Marketing (available in the HubSpot Marketing Hub), work best when you have highly organized Lists.
Embed HubSpot Forms in WordPress
Forms are an easy way to collect information about your visitors and contacts.
HubSpot's Form Tool enables you to easily build forms that are auto-added to your CRM.
Having your forms connected to your CRM is powerful. It allows new and existing contacts to auto-populate Lists that you have already created. This makes your life exponentially easier since you no longer need to manually upload/add new contacts to your email lists.
With Forms in the HubSpot WordPress plugin, you can:
Create custom form fields with a dozen different field types (text, dropdown, radio select, check box, etc.)
Drag and drop the questions you want to ask into a particular part of the form
Embed HubSpot Forms into WordPress fast and easy
Set up automatic kickback emails and notifications
The free version of HubSpot Forms comes with small HubSpot branding at the bottom of each form.
If you're happy with the form builder that you currently use on your website, that's okay because many WordPress form plugins have built native integrations with HubSpot. This means that you can use the forms you currently have on your website and connect the submissions directly into the HubSpot Contacts database.
Add HubSpot Live Chat to WordPress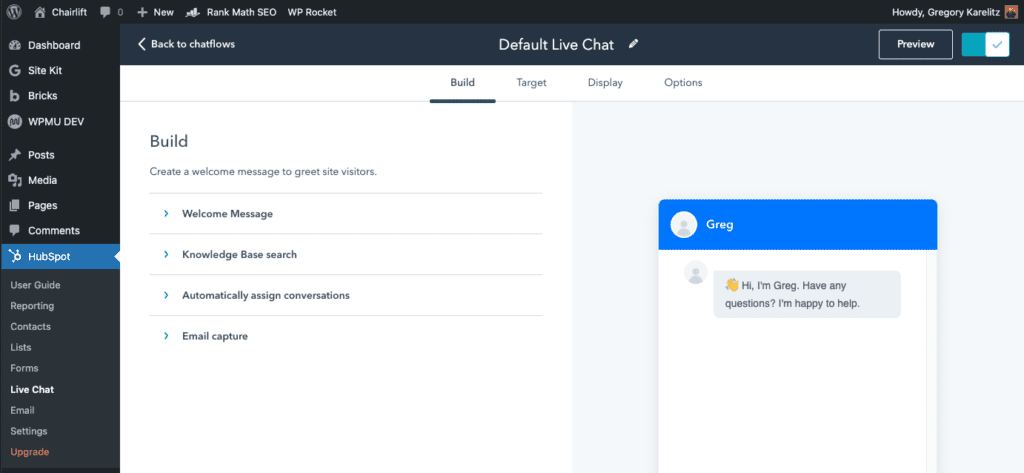 HubSpot's Live Chat software is one of the best available. And it's free!
Live Chat enables you to connect with your website visitors in real-time. You'll be able to answer their questions, learn more about them, and better engage with individuals looking to learn more about you and your business.
Another feature built into HubSpot's Live Chat is the ability to create chatbots. Chatbots help you quality leads, book meetings, and provide answers to commonly asked questions. Because chatbots are built into live chat, all the interactions are stored in the associated contact's activity timeline.
Are you starting to see how all the different parts of the HubSpot WordPress plugin work together… It's cool, isn't it?
One of our favorite parts of HubSpot's Live Chat is that you can engage with visitors from your mobile phone. Just download the free HubSpot mobile app from either the Apple App or Google Play stores.
Here's a video showing how to add live chat to your WordPress website:
Related: Here's an article on how to add live chat in WordPress (for FREE) in 5 Minutes.
Create Email Marketing Campaigns & Newsletters in WordPress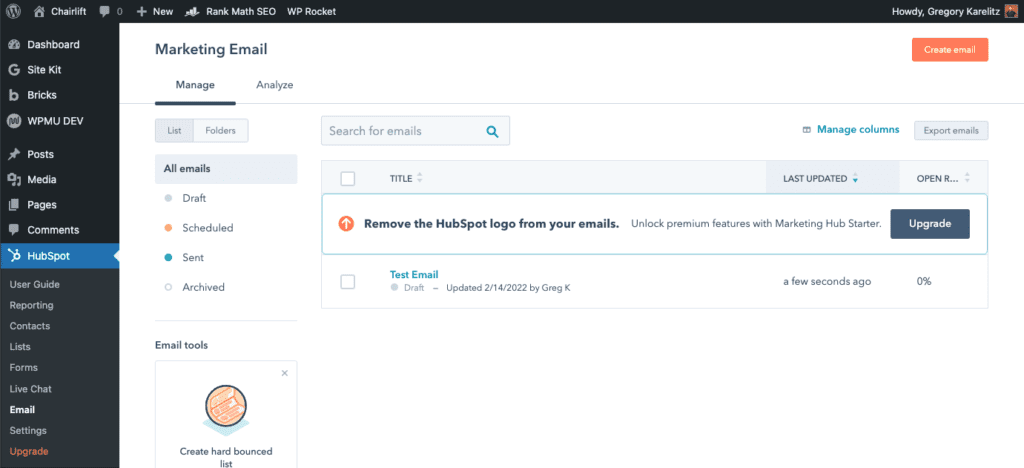 Email is not dead! However, non-tailored, impersonal, ugly emails are a thing of the past (finally).
With HubSpot's Email Marketing tool built into the plugin, you'll be able to create highly personalized, beautifully responsive emails. You can send these emails to your segmented lists to ensure that your content is relevant to its audience.
The email builder is drag-and-drop. so you don't need to know how to code to build well-designed emails easily.
Another great feature of the email builder is the ability to add personalization. Since HubSpot houses all the important data on your contacts, you can auto-insert any property into the email. For example, if you wanted your email to be addressed with the person's first name, that's easy. Additionally, if you wanted to add any specific details to the body of the email, that's no problem either.
All emails have detailed reporting. You'll be able to see the open rates, click rates, and which contact is taking action (or not at all).
Settings
Settings are pretty self-explanatory. In the Settings tab, you'll see which HubSpot account is connected to your WordPress website. And, if you need to change your default colors inside of HubSpot, you can do that too.
Conclusion
If you're looking to take your website to the next level, the HubSpot WordPress plugin may be the answer. For individuals and businesses that want to know more about their visitors and engage with them in a whole new way, there is no better option than HubSpot.
Additionally, if you don't have the time or resources to build, manage, and grow your website, learn about Chairlift's outsourced web design & development services. We help businesses grow better and faster online with a simple membership.
Additionally, if you have specific questions or need assistance, start a live chat with us! You'll be pleasantly surprised that it's powered by HubSpot and that I'll most likely be engaging with you from my mobile phone!